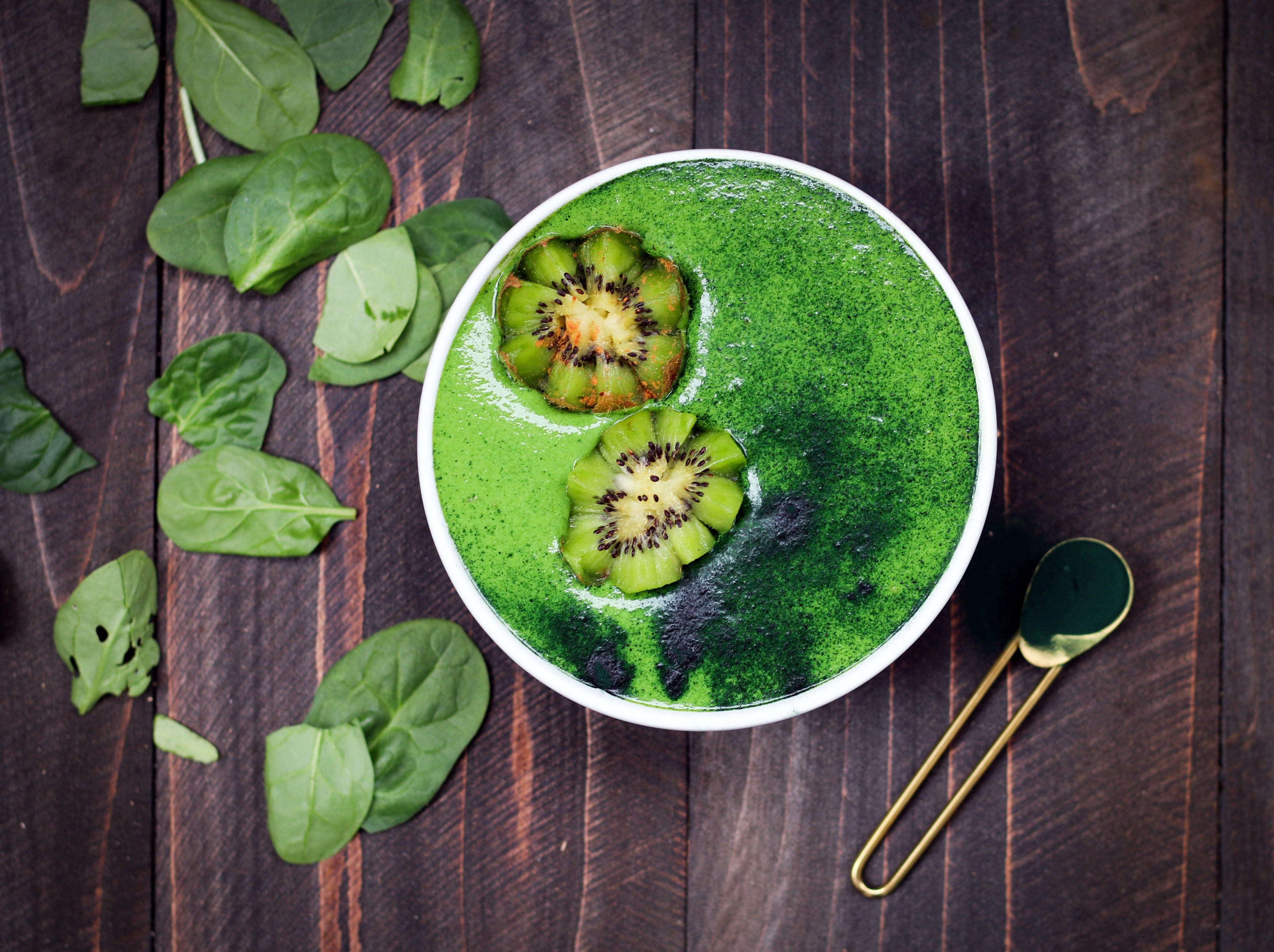 Green powders boast a variety of health benefits and can improve your immune system, protect you from heart disease, and boost your brain function.
Just mixing green powders with water, though, isn't the most tasty cocktail in the world. Want to get your greens, and enjoy the taste, too?
Try one of these 19+ green powder smoothies that taste amazing!
Not sure what type of green powder is best for you? We recommend trying Get Your Greens - a 100% natural, GMO-free (and tasty) green powder supplement.
19+ Green Powder Smoothies You Have to Try
#1. Strawberry Pomegranate Green Smoothie
You can make this delicious smoothie in two layers. Add a thick strawberry layer with a light layer of green powder on top.
You can also just mix all the ingredients together. It's up to you!
The smoothie includes antioxidant-rich foods like strawberries, pomegranate arils, coconut water, and spinach. To add thickness you can use bananas, avocadoes, or yogurt (depending on how sweet you want to make your smoothie).
Get the full recipe here.
#2. Super Green Spirulina Smoothie
This quick and easy-to-make green powder smoothie can be made with a green powder that contains spirulina.
The smoothie is nutritious, tasty, very thick, and super green because of spirulina's dark green color).
The ingredients you'll need are:
A banana
A cucumber
Coconut milk or apple juice
Spinach or kale
Spirulina green powder
Hemp seed powder or chia seeds
You can experiment with the ingredients to create your favorite smoothie flavor.. For example, add some frozen blueberries and granola on top.
You can drink this green smoothie as a snack or breakfast meal.
Get the full recipe here.
#3. ExtraThick Mint Chip Superfood Smoothie
If you like mint chocolate, you'll definitely like this healthier liquid version of it.
Just mix together a banana with some plant-based milk, protein powder (optional), hemp seeds, and a green powder of your choice.
To add some unique flavor, put a couple of drops of peppermint oil and add dark chocolate chips.
And voila you have a nutritious, and extremely tasty dessert!
Get the full recipe here.
#4. Green Warrior Protein Smoothie
Feeling tired and you have a busy day ahead of you? Do you need some extra energy for your daily workout?
This smoothie's got you covered!
The powerful combination of nutrient-dense ingredients will keep you energized and full for a long time.
The ingredients include:
Grapefruit
Celery
Apple
Hemp seeds
Coconut oil
Mango
And a vitalizing green powder
Get the full recipe here.
#5. Mango Coconut Green Smoothie
Want to mix up a quick smoothie to recover your strength after a long workout or an exhausting workday?
This simple smoothie can be made in five minutes. Just add fresh spinach or kale leaves to frozen mango chunks. For extra thickness add some bananas, chia seeds, and some full-fat coconut milk.
You'll immediately feel energized and refreshed.
Get the full recipe here.
#6. Low-Carb Shamrock Protein Smoothie
This nutritious smoothie and tasty treat will keep you full for a long time.
The ingredients include:
Spinach
Fresh mint
Plant-based milk
Frozen bananas
Vanilla extract
Pistachio nuts
Avocado
Whey protein powder
That's a lot of high-calorie ingredients. If you want to make this unique green smoothie lighter, you can add less protein powder or none at all. Instead, just add a scoop of your favorite green powder for an extra energy boost.
Get the full recipe here.
#7. Tropical Green Smoothie
If you like tropical-tasting drinks, you'll definitely enjoy this tropical green smoothie.
You can experiment with the ingredients and add berries of your choice, but to get the authentic tropical taste add some mango and pineapple to this tasty treat.
Other ingredients include:
Plant-based milk
Bananas
Spinach
Vanilla extract
To give it an additional boost and add more nutrients, just add a scoop of a tasty green powder to complete your tropical drink.
Get the full recipe here.
#8. Superfood Green Blast Smoothie
This is a great green powder-based smoothie with a sweet pleasant taste.
Coconut meat and plant-based milk give a creamy texture and a pleasantly sweet taste to mask the green powder flavor.
And green powder ingredients like spirulina, wheatgrass, and chlorella give you a quick energy boost and detoxify your body.
If you want an even more flavorful smoothie, add some vanilla extract, mint leaves, and peppermint extract.
Get the full recipe here.
#9. Creamy Cashew, Banana, and Spirulina Smoothie
Have you ever wanted to make your own cashew milk?
It's actually pretty simple. You just put some cashews into water, let them soak for 6 hours, and then blend them together into a silky texture.
To finish the smoothie just add these ingredients:
Water
A banana
A mango
An orange
Salt
Vanilla
A green powder of your choice
Blend and enjoy!
Get the full recipe here.
#10. The Pituitary Relief Green Smoothie
This antioxidant-rich smoothie is packed with all the essential ingredients you need for a healthy hormone balance - fiber, healthy fats, and nutrient-dense green powders.
Just add some hemp, chia, and sesame seeds to your favorite green powder. Add some Maca powder for extra energy and throw in a banana for more thickness.
Get the full recipe here.
#11. Green Tart Smoothie
Do you prefer a smoothie that's a bit sour rather than sweet?
This might be the perfect one for you!
The green tart smoothie includes a tablespoon of your favorite green powder mixed with green apple, lemon, lime, celery, and other ingredients.
If you need a quick refreshing boost with low sugar content, this smoothie might be just what you need.
Get the full recipe here.
#12. Energizing Spirulina Smoothie
This quick healthy snack will energize you immediately.
Just mix some spirulina or green powder with banana, milk, chia, and peanut butter. As a final touch, sprinkle some cinnamon on top.
This protein-rich smoothie will give you some extra energy and endurance throughout your day.
Get the full recipe here.
#13. Green Energy Booster
This smoothie is both an energy booster and a healthy delicious treat. The mix of banana and almond butter sounds like a cheat snack.
But once you combine the nutrient-rich green powder and plant-based milk, it becomes an energy bomb that will fuel you for the rest of the day.
Get the full recipe here.
#14. Raw Buckwheat Green Smoothie Jars
This smoothie will definitely go on your favorites list.
Let your creative juices flow as you make it in jars with mango, bee pollen, coconut chips, and passion fruit.
There is more to this smoothie than its good looks. The green powder that gives this smoothie its color , pairs well with its ingredients: frozen banana, creamy almond butter, and a splash of smooth maple syrup.
Get the full recipe here.
#15. Chlorella And Spirulina Detox Smoothie
Here's another tasty, two-layer smoothie . Just use a light green powder like moringa for the first layer and a dark green powder like spirulina for the second.
You can experiment with the other ingredients and add pineapple, spinach, banana, and even a bit of ginger powder for a slightly tangy flavor.
Get the full recipe here.
#16. Glowing Green Spirulina Smoothie
Want something quick and simple?
All you need for this smoothie are five ingredients:
A banana
Blueberries
Kale
Unsweetened plant-based milk
Spirulina green powder
Mix them together and enjoy their fresh energizing greenness.
Get the full recipe here.
#17. Fennel, Ginger, and Chlorella Smoothie
This smoothie uniquely combines fennel and ginger.
These ingredients benefit the female reproductive system and provide a very distinctive but balanced taste.
The remaining ingredients include pineapple, lime, Ashwagandha, and chlorella green powder.
Get the full recipe here.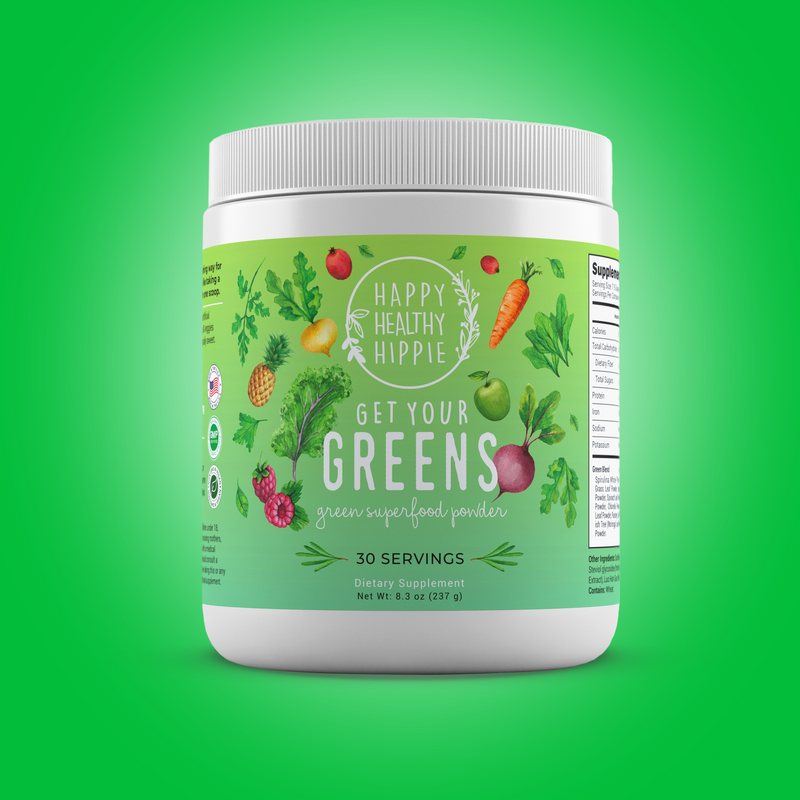 Get Your Greens provides essential nutrients to start your day healthy and energized.
Clean Energy Boost Supplement - helps promote healthy cells

Superfood Ingredients - 24 amazing fruits and vegetables

Enhanced Immune Support - packed with antioxidants

Naturally Delicious!
Try it risk free with our 60-Day Money Back Taste Guarantee.
Shop Get Your Greens
#18. Avocado Smoothie with Spirulina
If you want to add a bit of spicy flavor to your healthy drink, this smoothie will do the job!
This avocado smoothie with spirulina has a perfect creamy texture.
Aside from the avocado, add a pinch of chili powder, pepper, and pine nuts for extra flavor. You can skip the garlic if it's not up to your taste.
Get the full recipe here.
#19. Spirulina Meyer Lemon Green Juice
This smoothie blends cucumbers, green apples, ginger, kale, lemons, and spirulina green powder. These ingredients strengthen your immune system and deliver a nice refreshing flavor.
Just blend, strain, and drink up!
Get the full recipe here.
#20. Green Breakfast Smoothie
Want to start your day with a tasty and nutritious smoothie?
Just add some green powder to a banana, apple, pineapple, and some flax and hemp seeds. You can also throw in some chia seeds for added thickness and extra protein.
For extra nutrients and an even brighter green color, add a handful of spinach or kale.
Get the full recipe here.
Looking for weight loss tips? Read this guide to weight loss using super greens powder!
Green Powder Smoothies FAQ
#1. Are green powder smoothies healthy?
Yes, green powder smoothies are very healthy.
They're filled with fiber, Vitamin A, Vitamin C, potassium, calcium, and other antioxidants. They help strengthen the immune system and keep us energized throughout the day.
It's important to note, though, that moderation is key. Regardless of the health benefits, a diet that simply consists of green powder smoothies isn't nutritious. It has to be balanced out with fruits, veggies, healthy fats, whole grains, and protein-filled meals.
#2. What can I mix with green powders?
You can mix green powders with almost anything you enjoy consuming.
The most common way people mix them is with water, milk, fruit juices, smoothies, and other beverages.
But you can also add green powders to different recipes such as soups, energy bites, salads, and pancakes. Note, though, that as green powder heats up it can lose some of the nutrients such as vitamin C and probiotics, along the way.
#3. How long can I keep green powder smoothies frozen?
Green powder smoothies are best consumed immediately after you make them. But, you can also refrigerate them from 24 to 48 hours, depending on the ingredients within the smoothie.
If the drink smells off or turns dark brown, don't drink it.
#4. How many times a day can I use green powders?
Similar to vitamins, you typically only need one serving of green powder per day to get the necessary nutritional benefits.
But this isn't a one-size-fits-all answer. The serving highly depends on your specific needs and circumstances.
Say, for instance, if you don't have access to many fresh fruits and veggies, you might need to take an additional scoop of green powder to get enough nutritional benefits. Or, if you're getting the cold or feeling unwell, upping the dose can be a great way to boost your immune system.
Conclusion
As you can see, there's a green powder smoothie for every flavor and it's worth investing in one. You just have to find the one that you like the most.
This way, you can reap the benefits of your green powder and enjoy a tasty smoothie at the same time!