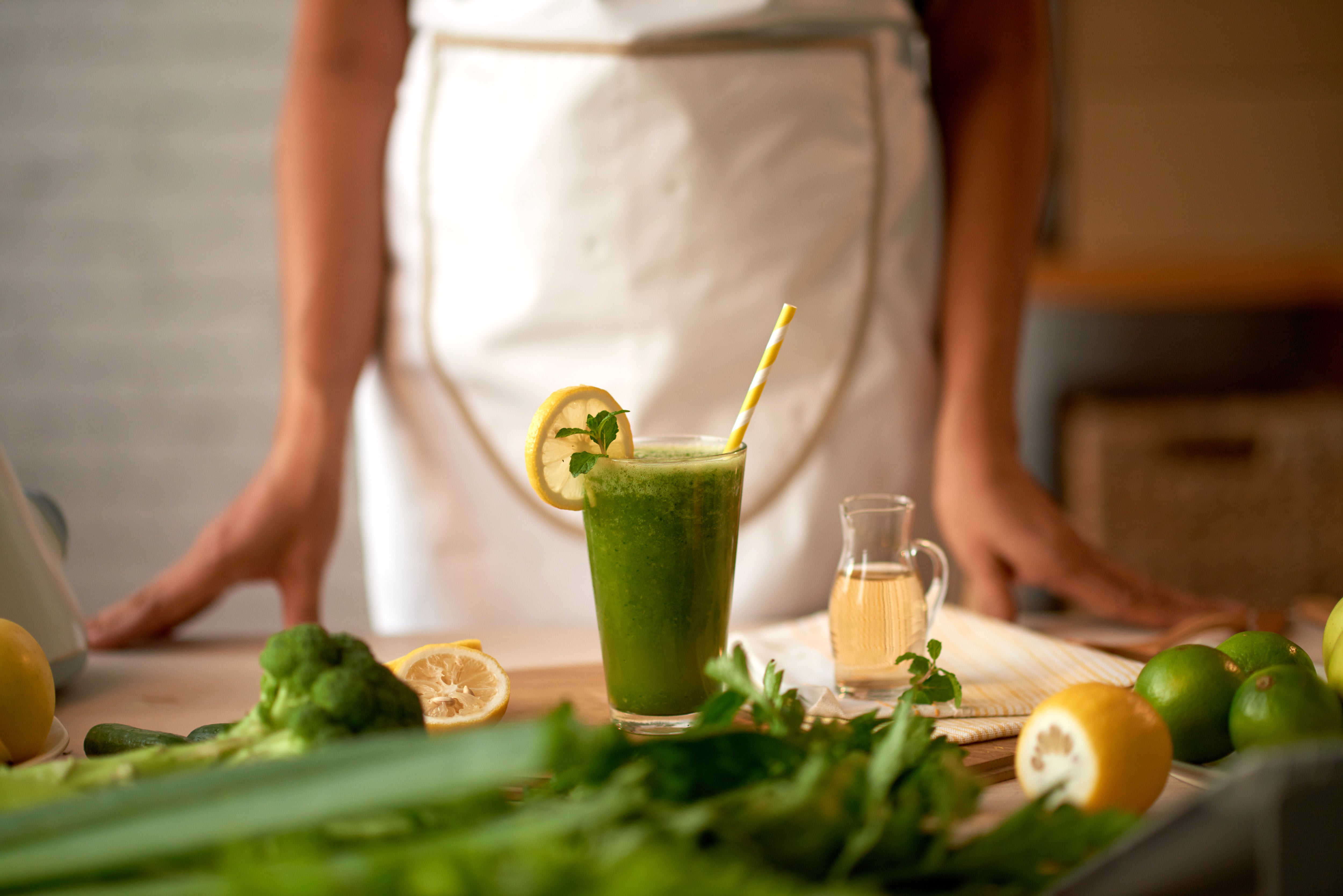 Are you always on the go and have no time to prepare healthy and nutritious meals?
Or you just don't like eating your veggies and dealing with all the hassle around cooking?
Whichever the case, you might want to try an easier and much quicker way of getting that daily portion of greens.
That's where a green powder supplement comes in handy.
In this article, we're going to help you choose the right green powder supplement that will give you all the nutrients you need.
And here is what we'll cover:
10 Best Green Powders In 2021
What Are Green Powders?
Are Green Powders Healthy?
How to Pick The Best Green Powder Supplement
Green Powders FAQ
10 Best Green Powders in 2021
Get Your Greens by Happy Healthy Hippie
Athletic Greens
Garden of Life Green Superfood
Amazing Grass Green Superfood
Nested Naturals Super Greens
Peak Performance Delicious Green Superfood
Organifi Green Juice
Orgain Organic Superfoods Powder
Vibrant Health Green Vibrance
Naked Nutrition Naked Greens
Read on to learn more about the 10 best green powders out there and choose the right one for you!
#1. Get Your Greens
Pros:
Cons:

24 plants and veggies
Affordable price
No added sugar or artificial flavors
Boosts your energy

Not gluten-free
Comes in only one flavor
One of our favorite green powders out there is Get Your Greens. This one is both affordable and has over 20 active ingredients such as fruits, vegetables, plants, prebiotics and antioxidants.
This green powder tastes good in plain water but you can also just put a scoop of it in your morning smoothie and you will be energized for the rest of the day.
Another good thing about Get Your Greens is the natural ingredients which are 100% plant-based and non-GMO. Plus the powder doesn't contain any added sugars.
#2. Athletic Greens
Pros:
Cons:

75 vitamins, minerals and plants
High nutrient density
Contains probiotics
Tested by a third-party laboratory

On the pricey end
Not all ingredients are organic
With all 75 ingredients, Athletic Greens can normalize your digestive system functions and increase your energy levels. The green powder is packed with minerals, vitamins and enzymes that help you get back on track if you need a quick immunity boost.
Athletic Greens is 100% vegan, however not all ingredients are organic. On the bright side, the powder has a good taste compared to other products.
So, if you need a green powder that will help you keep going with your busy daily routine, that might be a good choice for you.
#3. Garden of Life Green Superfood
Pros:
Cons:

100% organic
34 different ingredients
Boosts immune system and digestion
Helps maintaining normal blood sugar levels


It might have a grassy aftertaste
Contains only 2 g of protein and 1 g of fiber per serving
The Garden of Life Green Superfood contains a variety of non-GMO ingredients and no fillers or traces of chemicals. All veggies and fruits used to make the powder are dried right after they're harvested, helping preserve all the important nutrients so you can make the most out of each serving.
And if you're worried about the taste, you can always mix the green powder into a smoothie or try and experiment with the chocolate or apple flavor that the brand offers.
#4. Amazing Grass Green Superfood
Pros:
Cons:

Good taste
100% non-GMO ingredients
No added sugar
A nutritious blend of veggies, fruits, and plants

Includes a silica filler
More emphasis on the taste rather than the formula
If you insist on having a green powder that tastes good, Amazing Grass Green Superfood might be the perfect choice for you. With its 3 flavors - chocolate, berry and original you can experiment and mix in the powder to smoothies and other healthy desserts.
And even though it tastes like you're cheating, the Green Superfood contains a blend of wholesome non-GMO ingredients that give you your daily dose of micronutrients and have a detoxifying effect on your body.
#5. Nested Naturals Super Greens
Pros:
Cons:

100% non-GMO and vegan
Third-party tested
Improves your gut health
Affordable price

Not 100% organic
Has earthy taste
Nested Naturals Super Greens provides you with a variety of vegetables and probiotics that will help the functions of your digestive system.
The powder doesn't have any added sugars or stevia but it contains 3g of the natural monk fruit extract sweetener for flavor improvement.
Overall, Nested is an affordable green powder that contains 40+ ingredients. It can help you detoxify your body, improve your liver health, and boost your energy throughout the day.
#6. Peak Performance Delicious Green Superfood
Pros:
Cons:

Helps with your body detoxification
Reduces inflammation in your body
Improves gut health
High nutrient absorbability

Grassy taste
Might have traces of gluten
Peak Performance Delicious Superfood is one of the most nutrient-dense green powders on the market. It contains grass juice extracts which makes it 20 times more concentrated. All 29 ingredients are organic and free from toxins.
This green powder boosts your liver functions, energy levels and immune system. Even though some people might find the taste a bit too strong, you can cover it up by mixing the powder in smoothies and other drinks.
#7. Organifi Green Juice
Pros:
Cons:

100% organic
Contains 12 high-quality greens and superfood ingredients
Helps your body get rid of toxins
Boosts your energy levels

It's on the pricey end
Lower nutrient density
Organifi Green Juice contains spirulina, green tea extract, wheatgrass, turmeric, and 8 more active ingredients. The end result is feeling more energized, detoxifying your body, and boosting your immunity.
Organifi has a lower nutrient density than the rest of the green powders but it dissolves well in different liquids and it's a perfect addition to your smoothies.
The product is made of only high-quality organic ingredients which makes it a bit pricier than the average green powder.
#8. Orgain Organic Superfoods Powder
Pros:
Cons:

100% organic
No added sugar
No artificial flavors or preservatives
7 g of fiber per serving

Comes in only 2 flavors
Comes in 1 size
If you want to go for 100% organic powder that has 50 superfoods and 1 billion probiotics packed in every scoop, Orgain Organic Superfoods is a good choice.
This powder can significantly improve your digestive health since it's denser in fiber than other products. Plus, it's pretty safe to put it in a smoothie since it won't spoil its taste. It also has zero added sugars, and only 1 gram of sugar substitute stevia per serving.
#9. Vibrant Health Green Vibrance
Pros:
Cons:

100% non-GMO
Consists of 70 nutrient-dense ingredients
Contains 25 billion prebiotics
Boost your energy and immunity

It's on the pricey end
Contains traces of soy and milk
Being on the pricey end, Vibrant Health's Green Vibrance offers great value for your money.
The green powder contains 70 active ingredients that promote better digestion, blood circulation, nutrition absorbability, and improved immunity. This makes it a great source of many essential vitamins and minerals which are not common in most green powders.
If you go for Green Vibrance, you should also be aware of its mild grassy aftertaste. So you might want to mix it into your drinks and food instead of drinking it plain.
#10. Naked Nutrition Naked Greens
Pros:
Cons:

100% organic
Affordable price
No added sugars
Beneficial for your gut health

Has bitter taste if mixed in only water
Lower nutrient density
Naked Greens consists of only 10 ingredients but they're all carefully selected and all organic.This green powder offers a unique combination of ashwagandha, ginseng, prebiotics, probiotics, spirulina, and 5 more green blends.
Because of its limited number of ingredients, however, the density of the nutrients is lower than that of other green powders.
Naked Greens does not have any added sugars. Although healthier, this makes it taste a bit bitter so consider adding it to a smoothie or another tasty drink.
The good news is that Naked Greens is priced lower than many other green powders.
What Are Green Powders?
Green powders are nutrient-rich antioxidant powder blends made of dried ingredients. The most common greens you'll find in the mix are:
Leafy greens: kale and spinach
Seaweed: spirulina, chlorella, kelp
Grasses: barley grass, oat, and alfalfa grass
Nutrient-rich veggies: broccoli, carrots, cabbage
Extracts: green tea, grape seed, and ginkgo biloba extract
Antioxidant fruits: blueberries, acai, and goji berry
Mushrooms: maitake, reishi, shiitake
Herbs: echinacea, milk thistle
Fibers: inulin, apple fiber
Different brands offer different combinations of ingredients and the number of greens in a package can vary from 10 to 75.
So, think of green powders as a concentrated form of all the vitamins, minerals, enzymes, and probiotics that you can find in these greens.
The most common ones are A, B, C, K, iron, and calcium.
So, green powders don't have the same variety of vitamins as your regular multivitamin supplements, and won't give you the feeling of fullness that you would get from eating your vegetables in their natural form.
This makes them more of a healthy supplement to your diet than a cheat code to skip your veggies. And like it or not, at the end of the day, you still have to eat that bowl of kale.
So only when you combine green powders with healthy food and a daily dose of exercise, you will start feeling the benefits of incorporating them into your diet.
Are Green Powders Healthy?
So how exactly do green powders help you?
The answer varies depending on the green.
For example, some green powders might have added probiotics for improved digestion. Some have plant-based protein which is a great additive if you do sports regularly.
And other green powders can help you boost your energy levels. The green tea ingredient, for example, is a natural source of caffeine.
Green powders also have anti-inflammatory effects since they include antioxidant ingredients, which help your body detoxify from certain free radicals. This might reduce the risk of cancer, heart diseases, high blood pressure, and chronic illnesses.
So, to sum up: green powders are SUPER healthy. They give you almost all the daily nutrients that your body needs to stay healthy and strong.
How to Pick the Best Green Powder Supplement
Here's where you can get a bit overwhelmed.
The market for green powders supplements is flooded with different brands that promise effective results. But which one can you trust?
We've prepared a few helpful guidelines that you can refer to when making your choice. Look for:
Organic and non-GMO products. The greens might have been treated with pesticides. When they're turned into a powder, they might have a high concentration of heavy metals and traces of chemicals. You definitely don't want to put that in your body. A general tip is to look for companies that are certified for purity and safety by a third-party lab. This way, you have a guarantee that the product doesn't contain any dangerous chemicals.
Naturally sweetened. Usually, going for no sweeteners is the best choice but many brands add some sort of sweeteners to improve the taste of green powder. Artificial sweeteners like fructose, rice, or corn syrup can make you feel bloated and fatigued. So, as a rule of thumb, if you want a better taste, always give preference to products that have natural sweeteners like stevia or monk fruit extract.
No fillers. Carefully read the label and avoid products that have added fillers like corn, wheat, or soy starch. Such ingredients only prevent your body from absorbing all the nutrients of the green powder fully. And you're back at square one.
So, overall, look for a high-quality product made with carefully selected ingredients and no additives. That's when you will get the most benefits out of your green powder formula and make sure you're not putting anything dangerous in your system.
Looking for weight loss tips? Check out this guide to super greens powder weight loss!
Green Powders FAQ
#1. What should I mix green powders with?
You can mix green powders with:
Water. This is the simplest way to mix a green powder, but it can taste a little bitter. 
Fruit juice. You can add the green powder to a variety of juices such as orange, cranberry, or apple juice, to disguise the bitter flavor.
Smoothies. Similarly, mixing the green powder in your smoothie masks the bitter flavor and makes the smoothie healthier. 
Cook with it. You can mix a green powder into an avocado dip, add it in whilst cooking energy balls, sprinkle it on top of a salad, stir it with your soup, and more. 
#2. How often should I take green powders?
Usually, one serving of green powder should be enough to fill in any nutritional gaps in your diet. That's why, generally speaking, all you need is one serving a day.
However, there are few exceptions.
For example, if you're traveling long hours with no access to healthy fruits and veggies, you might want to mix in a second scoop of green powder for extra nutrition. Or, if you're getting ready for a heavy workout or a hiking trip, and need a boost in energy, a second serving can be beneficial.
#3. Do green powders cause bloating?
Yes, green powders may cause bloating, but it's normal and not cause for concern.
Let's explain why.
Whenever we change the way we eat, our digestive system reacts to the change. And incorporating green powder in a diet is no different.
That's why, yes, green powders may lead to tummy issues, such as bloating, diarrhea, and gas, but these issues are usually temporary. In most cases, they stop within two weeks.
If bloating or any other discomfort lasts longer, we'd recommend you see a nutritionist, or a doctor, depending on the severity of the symptoms.
#4. Can green powders replace vegetables?
No, green powders aren't meant to replace vegetables. There's no substitute for the nutritional benefits you get from consuming fresh veggies and other whole foods.
They are, however, a great addition to an already well-balanced, healthy diet.
Green powders help you increase your overall vitamin, mineral, and nutrient intake, boost your energy and immunity, improve your gut health, and reduce inflammation within your body.
Conclusion
If you prefer natural energy boosters to synthetically manufactured vitamins, green powders are a good way to start. We hope that you found a green powder in this list that will help you get all the nutrients your body needs!
No matter which green powder you choose, don't forget to use it as a supplement to your daily diet instead of a veggie substitute.
And as usual, expect to achieve the best results if you combine the green powder with a healthy lifestyle and a regular dose of daily exercises.