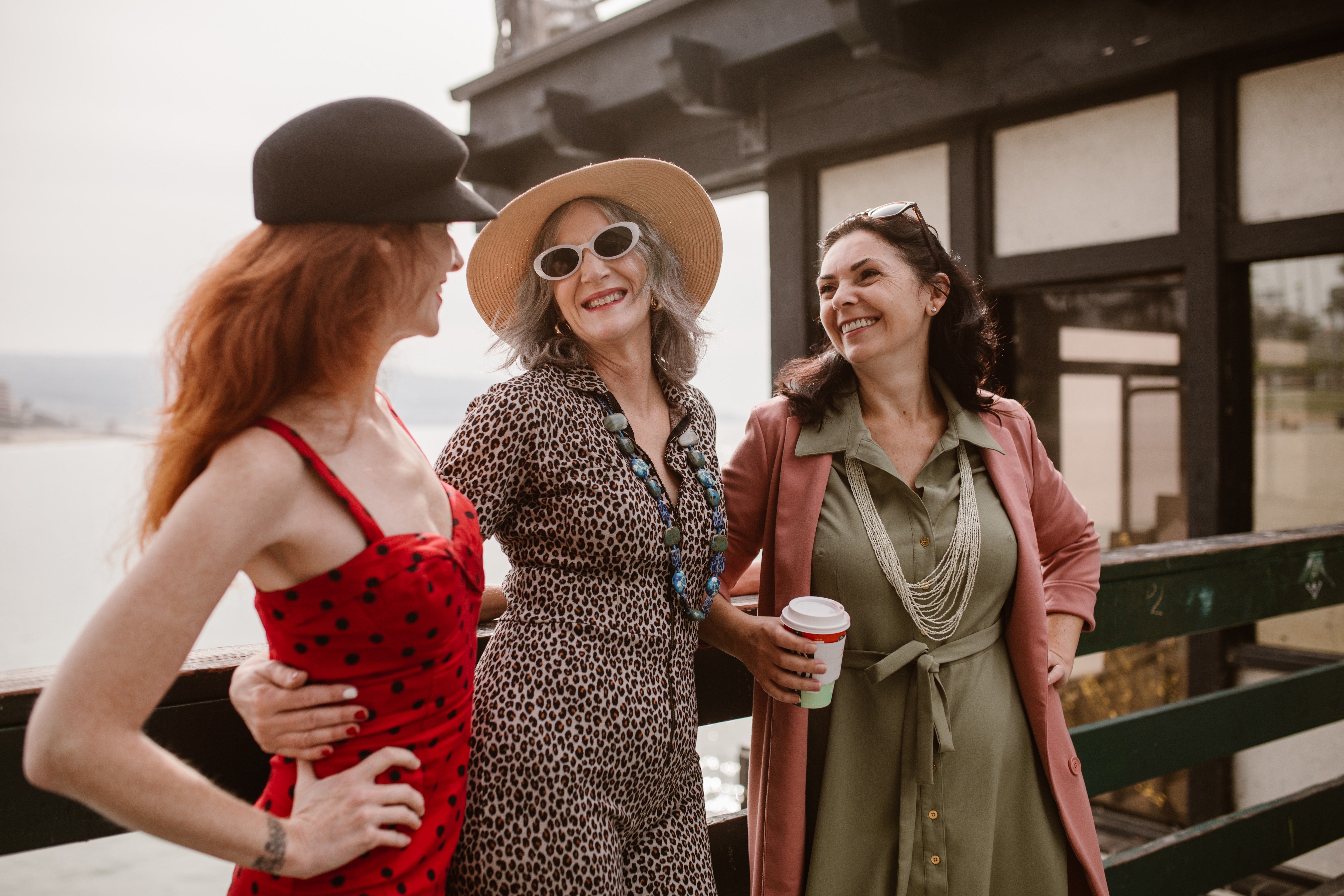 Bloating, tender breasts, cramps, headaches, mood swings, and acne, are only some of the physical and emotional symptoms that come with Premenstrual Syndrome (PMS).
And there's no denying it: PMS sucks. A lot.
In fact, symptoms get so severe for some women that they have to miss out on work, school, gym, and other daily activities.
Now—although there's no way to avoid PMS from happening altogether, you can reduce its symptoms and cope with the discomfort through several remedies.
You probably already know or have used a few over-the-counter pain relievers such as aspirin, ibuprofen, or naproxen. But sometimes, pharmaceuticals don't do the trick, or you might simply not want to put too much medication in your body.
That's when old-fashioned remedies like herbs for PMS come in!
In this guide, we'll be going through the 9 best herbs you can use for your PMS symptoms, along with other natural ways to manage PMS.
Read along to learn about:
9 Best Herbs for PMS
Go With The Flow: All-Natural Herbal Cocktail
Other (Natural) Ways to Ease PMS
9 Best Herbs for PMS
3 in 4 women say they experience PMS symptoms at a point in their life.
However, every woman experiences a unique mix of symptoms when PMS-ing. So, no single herb can target all and every symptom.
That's why we've divided our recommendations of herbs for PMS based on the different symptoms that each one addresses.
#1: Chamomile for Bloating
Too much stress during the pre-menstrual period can lead to high cortisol production and adrenal fatigue, which cause intense physical symptoms such as bloating, back pain, cramps, and headaches.
Chamomile has been used for thousands of years to reduce bloating and help with digestive issues. The plant is filled with chemical compounds that reduce inflammation and soothe the tummy from unwanted gassiness and bloating.
Chamomile is also a great natural anxiety-reliever and can help you fall asleep faster.
How to Take It
You can drink chamomile tea at any time of day, whenever you're feeling bloated or anxious.
Pour a cup of boiled water over 1 tablespoon of dried chamomile, steep for 10 minutes, and you're done! For some extra sweetness and nutrition, add a teaspoon of raw honey or pure maple syrup.
If you want to learn how to make more natural drinks that can help with PMS symptoms and hormones, read our guide on 7 drinks to balance hormones.
#2: Chasteberry for Tender Breasts & Acne
Chasteberry, also known as Vitex or Monk's pepper, is a herbal remedy that has consistently been shown to treat PMS and menopause symptoms.
These symptoms include:
Breast pain and tenderness
Acne
Irritability
Constipation
Researchers believe that chasteberry reduces these symptoms by decreasing high levels of the hormone prolactin.
How to Take It
The herb comes in three forms: liquid, capsules, and tablets. According to most clinical trials, a dose of 20-40 mg a day is enough to treat PMS symptoms.
With this being said, every brand has specific usage and dosage instructions. So make sure to read these labels carefully as well as talk to a healthcare provider or doctor to discuss any potential side effects.
#3: Dong Quai Root for Insomnia
Dong Quai Root has been used for more than 2,000 years to reduce PMS symptoms, increase libido, decrease sleep disturbances and insomnia, and regulate the menstrual cycle. It's also great for relaxing the bowels and relieving abdominal pain.
For more natural herbs that can treat insomnia, read our guide on 10+ natural herbs for sleep (with benefits & risks).
How to Take It
You can take Dong Quai in:
Raw form, as a root, twig, or leaf
Pill form, mixed with other herbs
Injection form, usually done in China and Japan
Dried form, boiled as a tea or made into a soup
Whatever form you choose, make sure to purchase it from a trustworthy, research-supported source that is 100% plant-based and non-GMO.
#4: Peppermint for Nausea
Peppermint is another herb that's been used for many years as a natural healing remedy.
Its leaves are specifically helpful in treating indigestion and nausea, as they relax your stomach muscles and help break down fats. Its refreshing and vitalizing scent also leaves the body feeling more balanced and reduces PMS pains such as headaches and cramps.
How to Take It
The most common way to take peppermint is as a tea, but it also comes in capsule form and as an essential oil.
#5: Black Cohosh for Headaches
Black cohosh has a long, ancient history amongst Native American women for treating PMS and menstrual issues.
The root contains anti-inflammatory properties that even out estrogen levels and reduce the overstimulation caused during PMS. This leads to less swelling and cramping, which prevents menstrual and PMS migraines.
How to Take It
For PMS symptoms, we'd recommend taking 20 to 80 mg of black cohosh a day. You can find the herb available as a tablet/capsule. Two tablets or capsules typically cover the recommended daily dose.
#6: Ginger for Cramps
Ginger is well-treasured for its pain-relieving and soothing properties and is often said to reduce PMS cramps and period pain. It's also been found to ease nausea, relieve osteoarthritis pain, and prevent morning sickness.
How to Take It
One of the best ways to take advantage of ginger for your PMS cramps is by making it into tea.
Grate a small piece and put it to a boil in a cup of water, for 5 to 6 minutes. Then strain the ginger and add honey and lemon for extra taste and nutrition.
#7: Maca Root for Mood Swings & Anxiety
Maca Root Maca is a highly nutritious herbal plant that grows in the Andes of Peru. It's an adaptogen, which means that it helps your body adapt to different emotional and physical stressors.
The herb also contains a good source of flavonoids, which are thought to improve mood swings and reduce feelings of depression and anxiety.
It's a great herb for women with high levels of estrogen, as they tend to experience a lot of uncontrollable irritability and mood swings.
Want to learn about other adaptogens you can use to relieve stress and balance your hormones? Then, head over to guide on 9 adaptogenic herbs to balance your hormones.
How to Take It
The easiest way to start incorporating Maca into your diet is by adding it as a powder in smoothies, teas, coffee, and other drinks. You can also add it to your favorite dishes and recipes, such as baked goods, desserts, oatmeal, and so on.
#8: Red Clover for Hot Flashes
Red clover is a wild plant from the legume family high in many nutrients such as calcium, magnesium, potassium, and vitamin C. It has been traditionally used to treat conditions such as coughs, respiratory issues, and skin inflammations.
But the herb also contains isoflavones, a compound that can help reduce PMS hot flashes and night sweats due to its effects, which mimic those of estrogen.
How to Take It
You can take it as:
Tea: two to three cups a day
Capsule: 40 to 160 mg a day
Tincture: 1ml, 3 times a day
Red clover Isoflavone extract: by following the product label instructions
#9: Green Tea for Appetite
Increased appetite is extremely common when PMS-ing due to a rise in progesterone and drop in estrogen.
Drinking green tea can help lower food cravings, as it's filled with antioxidants that fight hunger hormones, suppress appetite, and lead to weight loss. The herb is also great for brain function, type II diabetes, inflammation, and cardiovascular diseases.
How to Take It
There's no conclusive answer as to how much green tea you should drink daily, as different amounts benefit people in various ways.
With this being said, we'd recommend drinking 1 to 3 cups throughout the day. More than 3 cups daily can lead to unwanted nausea, vomiting, and an upset stomach.
Go With The Flow: All-Natural Herbal Cocktail

Get it now!
Go With The Flow is a uniquely curated supplement that features four potent herbs: Maca Root, Chasteberry, Dong Quai, and Black Cohosh.
The pill helps with total body hormone balance, as well as PMS, menstrual, and menopausal symptoms. It specifically supports you by:
Reducing hormonal acne, breast tenderness, acne, mood swings, hot flashes, and heavy menstrual flows.
Providing emotional & mental relief.
Go With The Flow is also a vegan-friendly, gluten-free formula that is manufactured in a CGMP Facility and supported by many research studies. And it's completely risk-free to purchase, due to our 60-day money-back guarantee.
Other (Natural) Ways to Ease PMS
In addition to using natural herbs, you can make a number of other lifestyle changes to naturally balance your hormones and ease PMS symptoms. These include:
Eat foods high in calcium. Researchers have found that women who take calcium have a 48% reduction in their total PMS symptoms.
Regularly exercise to release feel-good endorphins like serotonin and dopamine, so that you can sleep better at night. Go for lighter workouts like swimming or yoga, as high-intensity ones can promote inflammation.
Eat a hormone balanced diet filled with anti-inflammatory foods such as avocado, walnuts, cabbage, beans, broccoli, pumpkin, kale, spinach, etc. These foods get rid of bloating and help relieve cramps.
Take a 20-minute relaxing bath to soothe anxiety and painful physical symptoms such as breast tenderness and cramps.
Use essential oils. Certain essential oils such as clary sage, can provide some relief for PMS cramps. Rub a couple of drops into your abdomen and then cover it with a warm compress.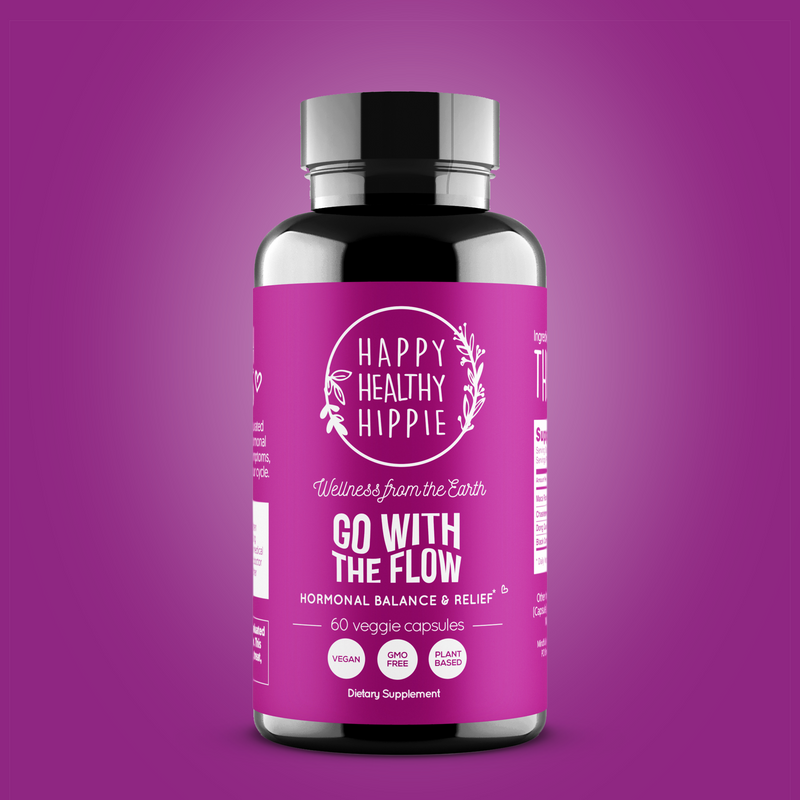 Go With The Flow is a 100% plant-based supplement that supports you by:
Menopause and PMS relief through herbal remedies
Balancing hormone levels

Providing mental & emotional relief
Reducing bothersome physical symptoms (acne, bloating, etc.)

Try it risk free with our 60-Day Money Back Guarantee.
$29.95 $23.96
Try Today - 20% Off!
*Discount will be automatically applied at checkout.
Key Takeaways
PMS symptoms are inevitable, but there are plenty of natural herbs that can help reduce their severity.
Our top 9 picks for the best herbs for PMS include:
Chamomile
Chasteberry
Dong Quai
Peppermint
Black Cohosh
Ginger
Maca Root
Red clover
Green tea
Besides using herbal treatments, you can also ease PMS symptoms by exercising regularly, eating a hormone balanced diet, dealing with stress management, and taking time daily to relax and unwind.