Sometimes you have these moments of clarity when it becomes obvious you need to make some changes in your life and get your act together. It could be because you want to feel more active, or it could be because your doctor told you to cut a certain item out of your diet, but you just know you can't keep going on like this.
But how do you go about making this change possible? You might be thinking that this change is going to be hard, that you'll need to commit to some things like exercise and eating better that may cost you both money and time.
The truth is - it doesn't have to be like that. There are some really simple things that you can do right now to start living a healthier life. It's the little things that we do every day that make the difference. And you would be surprised with the effects of these small changes in your everyday life.
Drink Lots of Water
Water is one of the most important things in your life - you can't go a day without it. If you want a healthier lifestyle, drink water like your life depends on it.
Weight loss, clear skin, better health, and better digestion are just some of the countless benefits of drinking water regularly. On the flip side, not drinking enough water can cause headaches, fatigue, dry skin, and weakened immunity.
Try to drink water as soon as you wake up, and always carry a water bottle with you to stay hydrated throughout the day!
Healthy Fats Are Essential
You're not supposed to regularly eat deep-fried food or anything, but you also need to make sure you're getting enough healthy fats like those in fish and avocado.
Some of the advantages of these fats in your diet are that they help you feel full, clear your skin, and are essential for your immune system. Don't be too scared of fats - not all fats are bad!
Stay Active
Workouts are great, but they're not a replacement for staying active throughout the day. In fact, a lot of research claims that sitting too much can even cancel out the benefits of your workouts!
Track your steps and take regular breaks from your desk. You can even get an app that tracks your steps for you, which is a great way to stay accountable.
Simple changes like taking the stairs instead of the elevator and taking short walks over your office every hour can help more than you think.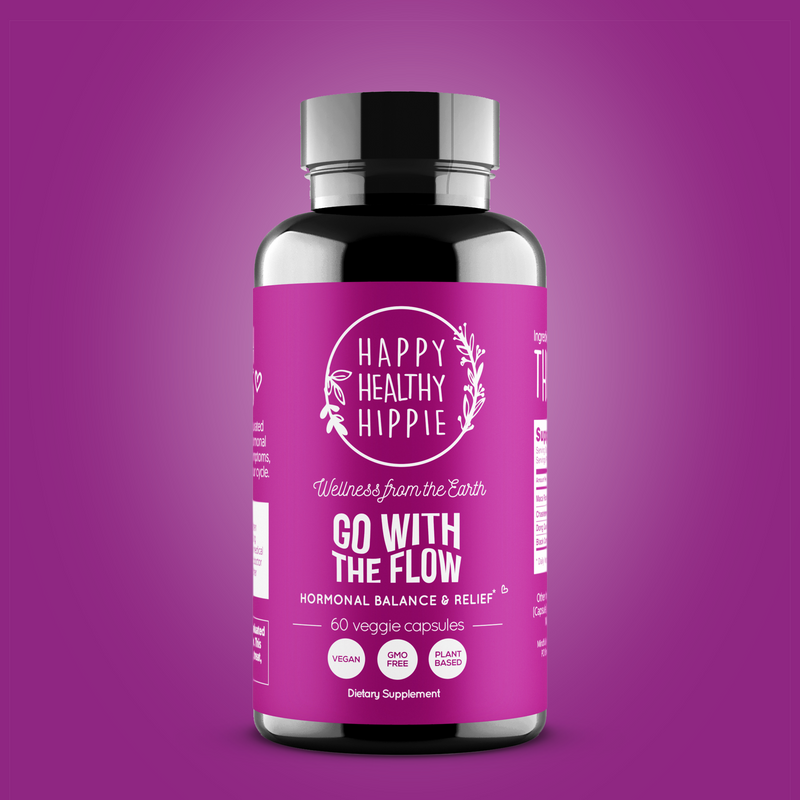 Go With The Flow is a 100% plant-based supplement that supports you by:
Menopause and PMS relief through herbal remedies
Balancing hormone levels

Providing mental & emotional relief
Reducing bothersome physical symptoms (acne, bloating, etc.)

Try it risk free with our 60-Day Money Back Guarantee.
$29.95 $23.96
Try Today - 20% Off!
*Discount will be automatically applied at checkout.
Sleep Better
The quality of sleep is essential for your wellbeing. Sleeping well means better concentration levels, better mood, and overall happier life.
If you have trouble sleeping, try practicing better sleep hygiene and changing your sleep position if you wake up with body aches or feel unrested. This is particularly true when you're sleeping on your front.
In this article about best mattresses for stomach sleepers, Raymond J. Hah, MD, a spine surgeon at Keck Medicine of USC talks about the harms of sleeping on your front. "This position puts the most pressure on your spine's muscles and joints because it flattens the natural curve of your spine, sleeping on your stomach also forces you to turn your neck, which can cause neck and upper back pain."
This isn't a very big change, but it's still going to be a little uncomfortable at first. Don't worry - you'll feel the difference when you start waking up one day without the neck and back aches.
Final Thoughts
Living healthy doesn't have to be hard. You don't need to spend hours in the gym or eat only vegetables. Taking stairs instead of the elevator, having good sleep hygiene and a balanced diet, as well as drinking plenty of water is enough to start with.
Incorporating small changes like this in your everyday life is a great way to start your journey to a healthier and happier you!